Creating Award-winning Pitch
22/25max
Datum održavanja
07.10.2019.
Date: October 7 | Time: 18:00 - 20:00
In this masterclass, you will learn how to sell your idea and your company on pitch events and networking events in front of investors and juries in an impressive way.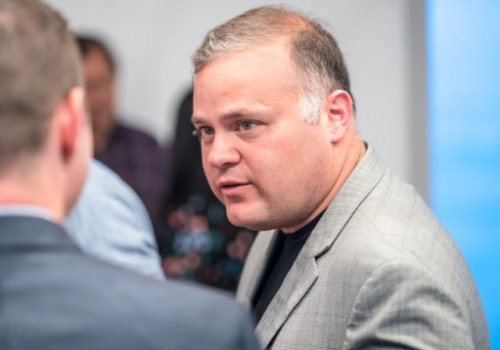 If you have an idea, you're always pitching wanting to turn strangers into champions.
The elevator pitch is perhaps the most difficult form of human communication, where one is required to communicate the value of what they are doing, why they are doing it, and why anyone should care, in 60 seconds or less.
In this masterclass, you will learn how to sell your idea and your company on pitch events and networking events in front of investors and juries in an impressive way.
You will learn how best to prepare for your pitch decks for the pitch events and the upcoming funding rounds in a way that is most efficient for you and your team. The masterclass is strictly limited to 20 participants and will be held in the English language.
During the 2 hour event he covers:
Pattern interrupt: How do I stand out with my venture?
Pitch structure: How should my pitch deck be built? What should be the contents?
Presentation goals: What do you want to achieve with your presentation?
Storytelling: How can I build tension and inspire with my presentation?
Preparing your funding round - Learn how to systematically prepare for your upcoming round: which investor materials to prepare, how to structure your investor deck and how to build an investor target list for your startup
Ethan Mayers is the co-founder of Pitch Elevator (http://www.pitchelevatorshow.com/) together with Nathan Gold, America's Elevator Pitch coach, and if you attend, you will get the advice from Nathan himself via Skype.
Bio:
Ethan Mayers is a former television producer turned technology entrepreneur who has driven innovation and frontier technology. As a serial entrepreneur and startup advisor across IoT, supply chains, circular economies, and media he has led high-growth startups around the world from New York City to London, Mumbai, and Detroit. Ethan has served as CEO of the innovation division of a $2.5 billion public firm, COO of Colabriq, a business intelligence platform and Techstars alum, and co-founder of Retovian (a private equity-backed mobile operations software platform for businesses across Africa, Latin America, and Asia).
Previously, Ethan spent seven years building and running Synthenai, a consulting firm that delivered operations optimization, business design, and technology strategy for SMEs and startups. Having played an important role in high-growth startups around the world, Ethan regularly advises companies on their value proposition and aligning it to operations, scaling, and investment preparation. He serves as a global mentor for Rockstart VC, Hague Institute for the Innovation of Law, Endeavor, and South by Southwest and is a passionate advocate for high-potential entrepreneurs and startups, particularly those that have risen outside of traditional networks.
Ethan will help startups and companies with:
Overall strategy and how to take ideas and turn them into actions
Business canvas workshops
Financial modelling
Preparing for investment (pitch, pitch deck, positioning) and investor relations
Brand development
Overall company strategy,
Go to market planning and strategy
Technology roadmap development
Creating global partnerships.
Ethan has led fundraising efforts of $6M from angel, institutional, and strategic investors primarily in the UK, India, and the US. Involved in the fundraising efforts at companies that have raised $60+M. Led operations, finance, product, and technology at various startups and corporate innovation projects.