DIASPORA TALKS: How to land the dream job without ever sending a CV
5/25max
Datum održavanja
31.03.2020.
Date: March 31 | Time: 18:00 h
Join us on Tuesday, March 31, in welcoming back Adela Mehić-Džanić to our Diaspora Talks series of events!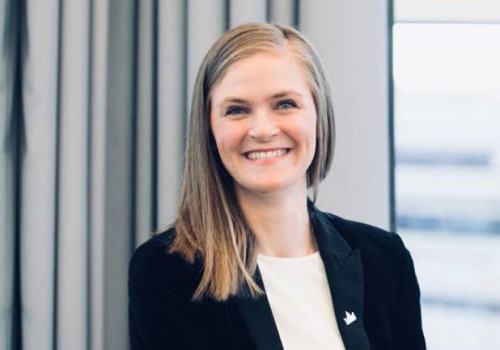 How to land the dream job WITHOUT ever sending a CV, sacrificing your conditions and hardly spending any time on it? Join us and find out!
In this presentation Adela will share her story about building up a successful career in Austria. About 6 years ago she moved to Vienna from Sarajevo and started her career from zero. No job offering, not even speaking German language and no network or contacts that could support her in finding the job or recommending her internally for the job positions. Fast forward, Adela is leading a global business development team at one of the most innovative software and IoT company in Austria, holds an MBA degree from the Vienna University of Economics and has co-founded the global Female Leaders Network at the respective university.
Are you ready to build a successful career and make an impact for the future generation of leaders?
In her inspirational talk, Adela will share the winning guide that will transform your career. The universal winning guide is to the point and each career advancement can be used alone or in combination. What matters at the end of the day, is the desire to move forward and the clear intention of building up your career. Anything is possible, if you are ready to invest in yourself, jump out of your comfort zone and surround yourself with the people that trust in you.
No matter if you are in Sarajevo or Vienna.
She will touch upon:
Being clear on what is your dream job and how to get there.
Becoming a trusted advisor and an expert in your industry and why is that the most powerful ingredient.
Building up your professional network that will open new doors and opportunities for you, that you could only dream about it before.
The power of LinkedIn and the social media.
Investing in yourself and personal development is the new paradigm and a guarantee for success.
And last but not least, trusting the process as it takes time to build and maintain a successful career. However, once you are there, everyday feels like your birthday!
About Adela:
Adela has 8+ years of international experience in leading sales and business development in the telecommunication and Internet of things (IoT) industry. Adela is currently leading the global business development team at the software company – MAVOCO AG, that is specialized in the IoT industry for the largest, Tier-1 telecom operators in the world. She holds a Master degree in Telecommunications from the University of Electrical Engineering as well the MBA (Master of Business Administration) degree from the Vienna University of Economics and the Technical University of Vienna.
Professional MBA Entrepreneurship & Innovation accelerated her career and opened new opportunities to expand her professional network, enhance her leadership skills and management know-how.
Adela is the Vice President of the Female Leaders Network in Vienna and she is committed to serving the MBA Alumnae across the globe and support them on taking their career to the next level.
***
This talk will be in Bosnian language.
Participation is free, but registration is mandatory. Please confirm your attendance.